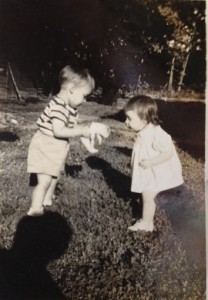 I've accepted that at the awesome age of 63, my silver hair is lovely and I have thin skin that shows experience and feelings. I've learned to appreciate the joy in the beautiful experience of "croning," or becoming an elder. I have a new appreciation of where I've been, and I can marvel in gratitude at the changes.
I wrote already about my early life and my brother D here. My brother Don, or D as he came to be known (short for Deetle),  was my "Irish" twin, being only ten months older than me. We grew up very close, and he was always very curious about nature and showed me snakes and such from an early age. I looked up to him as my constant companion.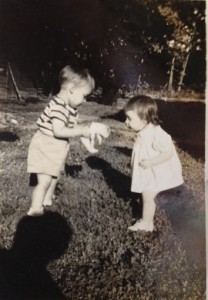 We were a year apart at school and had some of same friends—especially girls who wanted to be my friend because he was so cute! I really hated when he went off to Army boot camp for six months while I was a senior in high school. But he came back and then I moved on to Florida—but I still loved everything he did.  He showed me the great Bob Dylan and other musicians from the 1960s, and by the 70s he had gotten into bluegrass music, and of course I followed. I got a fiddle and he patiently taught me songs like Old Joe Clark. We would play together when I made trips back to NC.
We both got married and had our baby girls, Katie and Nyssa, around the same time (1984). He moved to Florida eventually, and after finding a great job for him, we flipped two houses in our spare time for extra money, which he used to get a little house.
It was really great to have him close by; we had lots of family time with our East Coast family, especially with our nephew Jim who had just returned from Afghanistan (more on that story here).
But we weren't meant to grow old together. He always called on weekend afternoons to say, "No news is good news!" or before going to sleep after a night shift to tell me, "I'm tired and wired and uninspired." Then one weekend he didn't. No returned calls at all, and no emails. So, after not hearing back from my brother by Tuesday, I finally discovered he had not been in to work on Monday night.
I drove over and found him on the sofa, as if asleep, having peacefully left his earthly vessel a few days before. Needless to say, I was devastated and severely traumatized. My recovery included therapies in Rapid Resolution Therapy (RRT) and Heart Forgiveness, both of which were crucial to my initial healing process. We went to the mountains of North Carolina, our home, and with his best friends Graham, Steve, Sam, and Linwood, his family put his ashes in the New River.
I once again received help from Robbi Zeck, who had just done her newest Blossoming Heart reflection on Spikenard, which helps us move from grief to resilience.
She writes:
When your heart is cracked wide open, with grief flowing like a river, place Spikenard on the crown of your head, at your forehead, over your heart and on the soles of your feet. It will bring you relief and create inner calm…Spikenard with its grounding earthy qualities will help to create closure so that regret and sorrow gently slip away…build resistance and access your innate strengths and use the affirmation: breathing in I feel, breathing out I flow; my heart is cradled."
Since then, I've used Spikenard and my other tools to restore my peace and build resilience, release the past in a loving way, and be here now in the present. I took time to do my grief work, and during this time, a poem emerged:
A  Morning Mourning

A morning alone becomes a mourning to myself
Alone to indulge in needed release of feelings held in for the moment, my heart cracks wide open and spills new rivers of tears gushing down my face leaving no trace of what I release as grief
Breathing in, I open to the Light
Breathing out, I release the heart light
The heart light switch is on again
Breathing in these mournings alone, the light of Love nourishes and settles my emotional heart
Breathing out I gather my heart back unto myself
Having hit the wall where resilience abounds, the mourning light becomes the Light of Love restoring strength and courage to my soul
Breathing in I feel; Breathing out I flow
My heart is cradled. 
This blog goes out on the three-year anniversary of D's passing, and I'm grateful to have had him in my life. I remember him with love and feel his presence daily. I know he's cheering me on, so I'm ready to restart my aromatic journey and rejoin my friends, colleagues and students on the path to finish what I started.  Karmic gravity calls me back; I'm not done yet. Being asked to create the paper from which this confession comes tells me I'm needed, and that helps me to pick back up and restart, so I can be called to action once again.
But I know that I can't do this alone. My daughter Nyssa has stepped up to help my work continue on, but she needs help too. In all my years, if there is one this I have learned, it's that life is short and that we get a lot more out of working together than we do working alone.