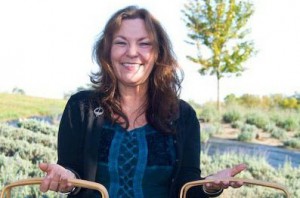 By the mid-80s, I started to realize that that I was not alone in my practice with essential oils. Colleen Dodt was working quietly away up in Rochester Hills, MI having been recognized in her own right by 1987. Her company, Herbal Endeavours, had started up the year before, but she had already been promoting aromatherapy in the herbal industry for some time.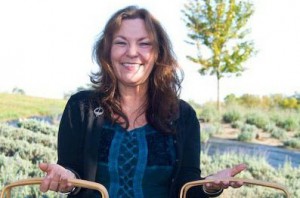 In 1987, Phyllis Shaudys opened her book Herbal Treasures with Colleen's work on aromatherapy. She called Colleen a one woman pioneer in aromatherapy and said that Colleen had been "very gracious to those who turned deaf ears to her in the early days" and apologized to Colleen for having ignored her.
Colleen was called the "crazy herb lady" for many years and pioneered the use of gems in oils for personal blends. She coined the term "scent wagon," as in everybody getting on it. Having gone to the UK to see Robert Tisserand in December 1986, she then was the first to bring the Tisserand line of oils here to the US. She first brought Robert Tisserand to Baton Rouge, LA, and Detroit, MI. She also first brought Marcel Lavabre of Aroma Vera (see photo) and Anita Roddrick of Body Shop to Ann Arbor, MI., and Jeanne Rose as guest speaker to Rochester Hills, MI.
She wrote two books: The Essential Oils Book: Creating Personal Blends for Mind & Body (1996)  and Natural Baby Care (1997). Finally she was the first American and first woman author in the International Journal of Aromatherapy, Vol.1, 1988, called "Aroma What? Americans May Not Know it Yet But They Are Heading for a New Revolution."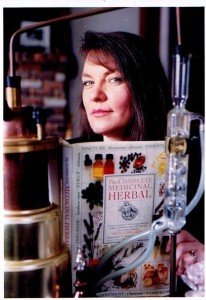 I consider Coleen to be another very early Pioneer Vintage Aromatherapist, deserving of recognition and honor for her contributions to the field. Many people know nothing about her. She got lost in the years to follow and is now making a come back. One thing I have seen happen is that once the internet started up and many who jumped on the internet with lots of marketing became well known, while others with less resources and skills got left behind. She is one who did not get a big flashy website and marketing; her books was translated and sold all over the world with no compensation to Colleen. Now she is known again, and my dream is to see her course online, she is not done yet! I thank her for coming to St. Pete to be honored.